Discover 2021 TM Racing motorbike
Price information
All price showed on this page are in Euro. The price is considered EXW from France. Tax excl. TM Racing motorbike may be sent worldwide, please contact us for shipment quotation depending on your country.
Enduro motorbikes - TM Racing 2021
The range of enduro TM motorcycles is most likely the best of the world. Haloed in 2020 by two world champion titles with Loïc Larrieu, and Andrea Verona, TM Racing arrives in 2021 with a successful range.
The 125 TM, and 144 TM are now in 2021 equipped with a KEIHIN injection system controlled by an Emoticom ECU like its sisters. We will have the opportunity to test them in the coming weeks.
The 250 tm, and 300 tm 2 Stroke, named 2S, have been injected since 2019, but the system is revised and improved in 2020, which allows them to combine exceptional flexibility with impressive engine power. Find our test by clicking here. Now equipped with an electric starter, restart on the hill will be very easy.
The 250Fi and 300Fi are in 2021 equipped with the new double exhaust engine proven since 2018 on motocross models. Bringing force to the engine, this will allow TM Racing to be even more efficient on the special stage.
The 450Fi TM Racing remains available taking advantage of the 2020 frame evolutions. Still based on the Kayaba 48mm suspensions, homemade "TM Racing" shock absorber and its aluminum chassis, the TM Racing chassis will guide you serenely on all types of surface .
New bike price - TM Racing 2021 Enduro
Motocross motorbikes - TM Racing 2021
In 2021, the TM Racing 125 MX, one of the most efficient 125cc on the market, improves again and again. Since 2012, the TM factory has been working on the electronic valve system, now proven the system has been improved by removing the cables. Less wear, more responsiveness, magic reinvented!
Equipped with CNC hubs like the whole range, the TM 250Fi MX 2021 will delight the most demanding MX2 riders, a terrible torque to get out of ruts and an exceptional power to get ahead of its opponents. The aluminum frame and the CNC triple clamp of the TM Racing 250 and 300 2-stroke motocross will allow all the riders to jump on the motocross track in complete safety, and all necessary serenity.
Need a powerful machine? The TM Racing 450Fi MX is there for you, 59hp at the rear wheel, it is more than necessary to make the holeshot and head out to victory.
Young people are not put aside with the TM Racing 85 Junior, available in 100cc, a real aluminum frame, two radiators, a solid and robust engine based on the bottom engine of the 125cc. A real BREMBO hydraulic clutch master cylinder and high-performance brakes. Nothing will stop young people aged 10-16 from now on.
New bike price - TM Racing 2021 Motocross
Competition Supermoto motorbike - TM Racing 2021
You want a motorbike for the practice of supermoto in competition. What could be better than the 2020 TM Racing 450 SMX?
This motorcycle developed by Thomas Chareyre for ten years now, with which he has been 7 times world champion is the absolute weapon. 50mm Marzocchi fork, 16mm triple clamp, short and wide swingarm, rigid frame for exceptional asphalt ability, everything is there. The engine is not put aside, with the most efficient engine on the market, developing more than 60hp.
If you prefer 2 Stroke, the TM 300 SMX takes everything from its sister on the frame side by implementing the 300cc 2 Stroke engine. A real toy for asphalt and lovers of pre-mix.
We do not exclude young people or lovers of smaller bike, the TM Racing 250 SMX is a weapon for the mid-size category. Anyway, with the TM Racing Supermoto Competition range, you have a high-performance motorcycle by simply taking it out of its box, a real factory motorcycle.
For 3 years, TM Racing has also understood the needs of kids, with the TM 85 SMX, a small bomb on its 12 inch wheels (can be changed to 16/17 inch if necessary)
All these motorcycles are available from RAW Motorsports
New bike price - TM Racing 2020 Supermotard compétition
Road legal Supermoto motorbike- TM Racing 2021
Mountain roads , a little trip to the beach? The TM Racing SMR allows you to drive on an open road with an original supermoto from the factory.
Derived from the TM Racing Enduro range, this livery has a suitable set of wheels with a front wheel in 3.5x17 '' and a rear wheel in 4.5x17 '' or 5x17 '' depending on the model, a Brembo 305mm brake kit, and suspensions suitable for the use of supermoto.
As we often say, this bike is not dedicated to do 40km a day to go to work, but more a leisure bike for the weekend, a ride with friends, and it will do very well for a track day with friends who ride on SMX TM Racing.
Equipped with a 48mm Kayaba fork with an SM setting, a 100mm radial fork leg, it will be a real toy for open road.
Available in 125Fi 2S SMR, 300Fi 2S SMR and 450Fi 4S SMR
New bike price - TM Racing 2021 Supermotard routier
TM Racing 125Fi SMR 2S 2021
TM Racing 300Fi SMR 2S 2021
TM Racing 450Fi SMR 2S 2021
Flat Track - TM Racing 2021
Following the participation of Thomas Chareyre in the Superprestigio with among others Marc Marquez, TM racing develops a TM Racing 450Fi Flat Track adapted to the discipline.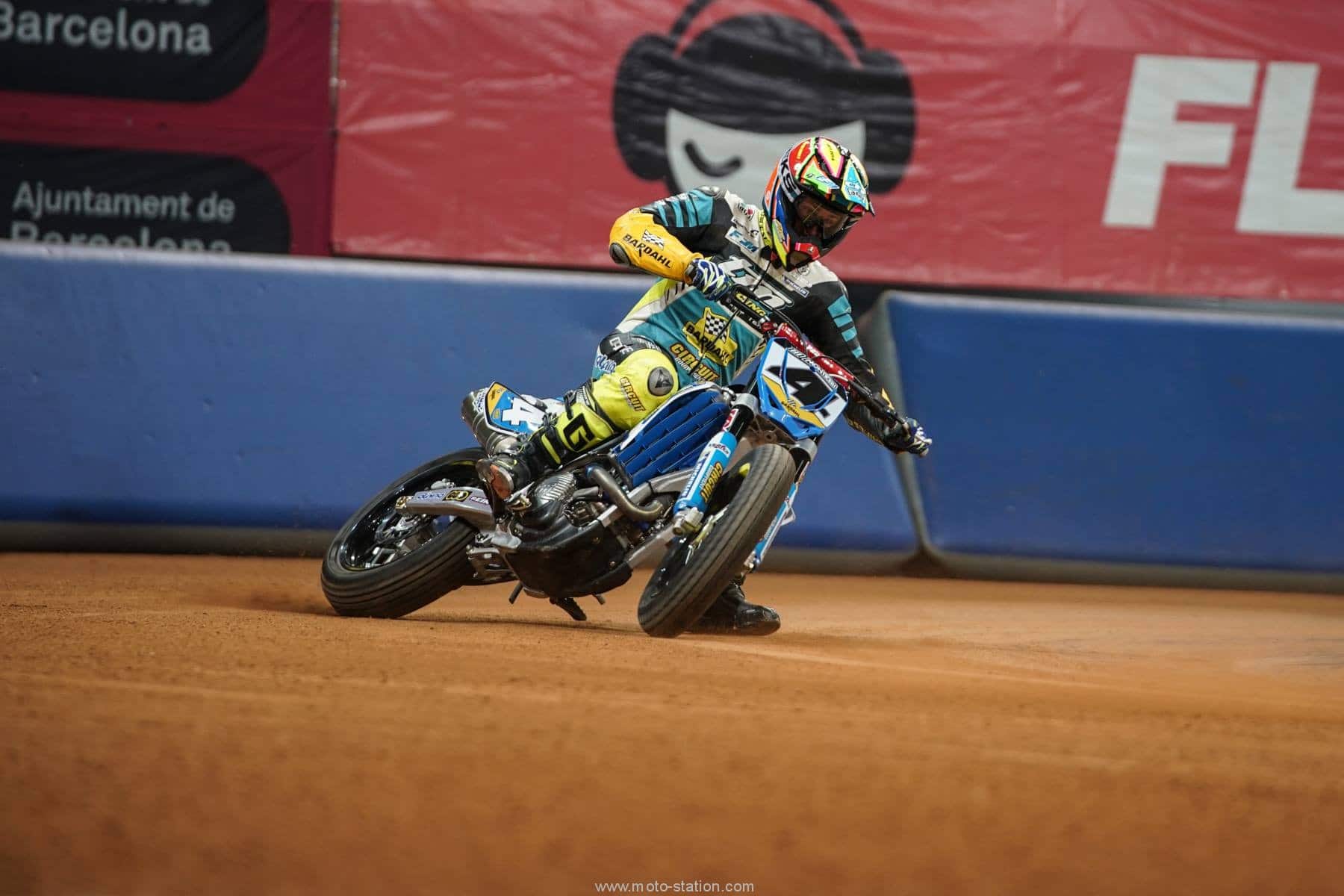 New bike price - TM Racing 2021 Flat Track